1Goal
is a global campaign. This campaign is sponsored by all Habbo communities in April-May 2010.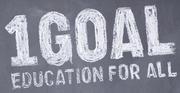 The main goal is to raise money and awareness about how millions of children around the world cannot receive an education due to poverty. 1Goal is partnered with FIFA to help children in third-world countries have an education through the power of sports.

Habbos who joined the 1Goal group will receive a badge and sticker for their Habbo Home.
External links
Ad blocker interference detected!
Wikia is a free-to-use site that makes money from advertising. We have a modified experience for viewers using ad blockers

Wikia is not accessible if you've made further modifications. Remove the custom ad blocker rule(s) and the page will load as expected.