This article could use references, to show that the content is accurate and trustworthy.

You may help the wiki by creating a 'Sources' section to this page and providing accurate links to where this information can be found.
---







---
| | |
| --- | --- |
| | This page is about a past event, feature, or other object that has been removed from Habbo. To maintain the article's accuracy, please avoid adding new information that isn't sourced. |
"Merge" redirects here. For the first merge between US and Canada, see 2010 US-Canada Merge.
The
2010 English Hotel Merge
was the second planned merge connected to the
US-Canada merge
and would combine all English speaking hotels. News articles were published on April 7, 2010 explaining the merge. All English speaking hotels would merge into one universal website. On June 2, Habbo Australia merged with the new Habbo.com, becoming the first of the international hotels (besides Canada) to merge in the English Hotel merge.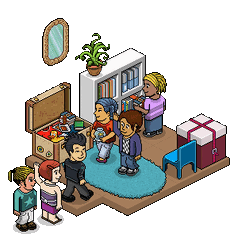 Overview
On April 7, 2010, managers of all English speaking hotels published the following news story (note that this news article is from Habbo Canada; information may be different in each hotel):
"
Important and exciting news for all Habbos.

As we are inching closer and closer to the big day when Habbo.ca and Habbo.com are united under one Hotel roof, some other exciting news has surfaced!

The new Habbo.com will not only be the home of Canadians and Americans, come May, it will also become the home of all our English language Habbo Hotels! In other words, this fantastic new site will be the home of all the English speaking Habbos from our sites in Australia, Canada, Singapore, the United States, Ireland and the United Kingdom.

The new, international Habbo.com will give you the opportunity to meet thousands more friends from all over the world, with more competitions, more events and even more shenanigans than ever before! That's not all though, as the "flagship" site, Habbo.com will get all the new features before anyone else.

Habbo.ca and Habbo.com will still be united in April as planned, so that gives you some time to settle in and get ready to greet the world in May!

We know you will have plenty of questions about this, but please rest assured that we are planning very carefully. We're looking forward to giving you more news on this exciting development on the week of April 12, so remember to check back! The article basically summarizes that all English speaking hotels will come together to form one hotel.

"

— Habbo Staff
Participating hotels
A strike in the URL of the website means it redirects to Habbo.com when visited.
The Merge
See also: Timeline of the 2010 merges
Less than a month after Canada and US merged, Habbo Australia joined. Like Canada, groups from Australia have yet to move to the new database.
A couple of days later, Singapore merged with Habbo.com on June 4. Groups from Singapore are also awaiting migration to the new database.
The AU, NZ, SG, MY and PH flag badges have been mistaken by a few Habbos to have been received for the merge, but some Australian or Singaporean hotel players may have flag badges from joining either the NZ, AU, SG, MY or PH groups before the merge. These players may have been randomly selected to receive the badge (with the flag on it, depending on what group was joined, in which hotel.), but every player from the hotels who merged also received their Hotel View badge as a merge badge.
Habbo UK merged with Habbo.com on June 10, the final hotel to merge.
Community Response
Main article: Criticism of the 2010 merges
Reactions were mixed, but the response to the merge from older users was mostly negative. There have been many issues regarding the merge, including furni values, username and group clashes, time zones, and bullying.
The Worldwide Merge Rumor
In early July 2010, rumors on discussion forums and fansites were circulated about an alleged worldwide merge, where all international non-English-speaking hotels would merge with Habbo.com. However, days after the rumors started, they were proven to be false and Sulake would not merge other hotels with Habbo.com. [1]
Merge Badges
After the merge, badges were given to players to symbolize their home-hotels.

 MRG01 - Habbo Canada - Remembering my Habbo roots!

 MRG02 - Habbo USA - Remembering my Habbo roots!

 MRG03 - Habbo UK - Remembering my Habbo roots!

 MRG04 - Habbo Australia - Remembering my Habbo roots!
 MRG05 - Habbo Singapore - Remembering my Habbo roots!
Other Badges
A badge was also given to all users of the new English hotel to symbolize the new friendships between each country.

 MRG000 - Friendship Bracelet - A stranger is a friend you have yet to meet!
Merge furni
(See main article: Merge Compensation Rares).

Many of the rare values went down due to different values in different hotels. To counteract this, Habbo gave gifts to make up for the lost value. The gifts included strange boxes, variants of cap statues, and a submarine! All users, at the least, received a free
Travel Trunk
.
See also
Ad blocker interference detected!
Wikia is a free-to-use site that makes money from advertising. We have a modified experience for viewers using ad blockers

Wikia is not accessible if you've made further modifications. Remove the custom ad blocker rule(s) and the page will load as expected.