You can read the original Habbo article by clicking here.
Adam West was scheduled to visit Habbo Hotel on Friday October 16th between 2-3pm PT / 5-6pm ET (exact time TBD). He and Cresthawk were going to be in the Theatredrome answering questions and chatting with players.
After waiting several hours, Cresthawk announced that Adam West would be coming late, and that he was attending a comic-con at Madison Square Garden. Cresthawk announced that Adam West "was on his way".
There were not any pictures taken of Adam West at the Sulake Studios this time.
Videos
Adam West was the original Batman on the television show in the '60s. (You will need to enlarge the videos to see the chat)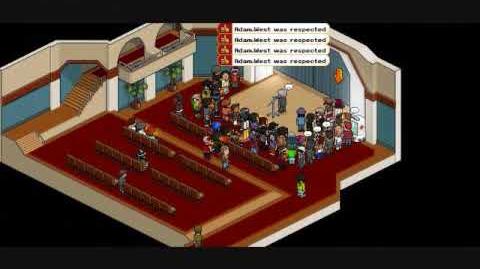 Ad blocker interference detected!
Wikia is a free-to-use site that makes money from advertising. We have a modified experience for viewers using ad blockers

Wikia is not accessible if you've made further modifications. Remove the custom ad blocker rule(s) and the page will load as expected.