---
---
"Create your own American Idol world in Habbo with this exclusive AI furniture set."
Habbo USA and Habbo ES had a partnership deal with American Idol in February 2009. Last editions to the furni line were introduced April 2009.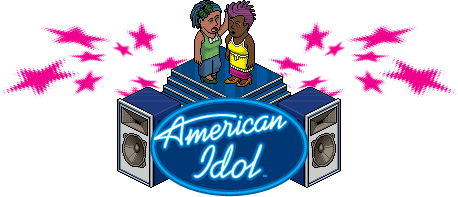 The American idol campaign brought with it new furniture, stickers, homepage backgrounds, effects and an exclusive achievement for Habbo.com users.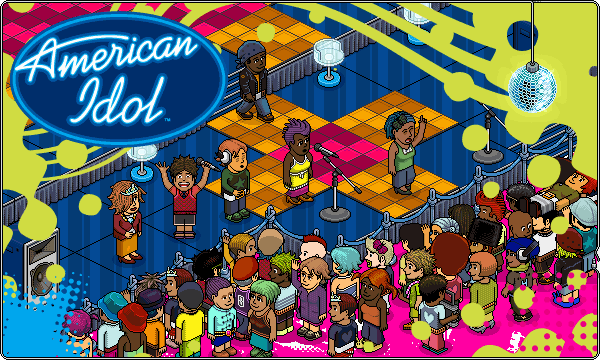 ---
Click on the furni for more information
American Idol Judge Desk

- American Idol Floor Tile 1

- American Idol Floor Tile 2
American Idol Poster
- American Idol Curtain

- American Idol Judge Chair

American Idol Trax Machine

- American Idol Microphone

- American Idol Star Teleport

American Idol Audience Chair
- American Idol Jukebox

- American Idol Flat Screen

American Idol Piano

- American Idol Piano Chair
- Voting Chair
Hot Spot & Scoreboard

- Makeup Mirror

- Clothes Rack
- Tube Light

News Reporter Desk

- American Idol Neon Sign

- Interview Chair
- Cubicle Partition
Beverage Tray

- Formal Dining Table

- Elegant Party Cake
- American Idol Carpet

Blue Chandelier

- Beverage Tower
---
Voting Achievements
| | |
| --- | --- |
| | This page is currently in the middle of an expansion or major revamping. Please check to make sure all content is neat and accurate! You can help Habbo Wiki by contributing to this article. |
---
American Idol Graphic Dump
Ad blocker interference detected!
Wikia is a free-to-use site that makes money from advertising. We have a modified experience for viewers using ad blockers

Wikia is not accessible if you've made further modifications. Remove the custom ad blocker rule(s) and the page will load as expected.