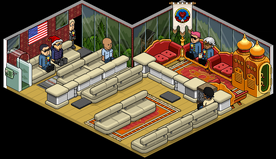 Habbo armies are a type of roleplay designed to mimic armed forces in real life. They have been around in the network community since mid-2001, with militaries such as the Soviet Union which was established in mid-2001; and the British Army established in late-2001 on Habbo UK. Some are based from those in real life and adapts their rank insignia and way of commands, while others are created spontaneously by their owners. In general, the most common job when one works in a Habbo military is "to recruit other civilians like how they recruited them".
Organization Management
Every Habbo armies has similar but different capabilities. Their way of conducts are determined forms the basis of their composition, equipment and use of facilities. Statistically, it is told that most Habbo military have their own billets to conduct multiple operations such as foreign military liaisons, battalions, special ops, etc.
Forum for updates
Forums are used for information storage and news updates (they do not depend on the forum in Habbo as it is not considered sophisticated and organized). Frankly, not all personnel can check Habbo army forums.
Relationships between different armies
There are a few relationship categories to be remembered by each Habbo soldiers to identify "foreign personnel," which can be ally, neutral or enemy. Basically, when encountering an "enemy personal", a Habbo soldier must not interact with him while in enemy or your own military's property, but may interact anywhere else.
Ad blocker interference detected!
Wikia is a free-to-use site that makes money from advertising. We have a modified experience for viewers using ad blockers

Wikia is not accessible if you've made further modifications. Remove the custom ad blocker rule(s) and the page will load as expected.