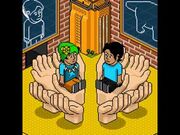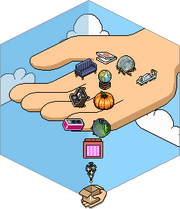 The
big hand
was an item on the taskbar. This feature carried all a Habbo's furniture. The hand consisted of a "<<" and a ">>" button and a "Close" button. Each section of the hand held at least 9 furni and the rest goes to a new section. The hand feature was taken away in 2009 when
New Habbo
or Habbo beta came. Habbo held a competition for Habbos to make a 'Good-bye!' video for the big hand, which was called the Big Ola farewell. The winning results of this competition was placed
on this page
. During the competition, Habbo created a furni that is a chair representing the Habbo big hand. On the taskbar, 'a box in a hand' icon replaced the original hand icon. When you clicked that icon, the furni is now carried into a default box.
Today's System
(See main article: Inventory)
A new system was put into effect in New Habbo. There are separate sections to view your floor items, posters, pets, and badges.

Goodbye big hand badges.
Ad blocker interference detected!
Wikia is a free-to-use site that makes money from advertising. We have a modified experience for viewers using ad blockers

Wikia is not accessible if you've made further modifications. Remove the custom ad blocker rule(s) and the page will load as expected.