On July 9, 2010, The Big Wave promotion was released with 35 new
furni
items.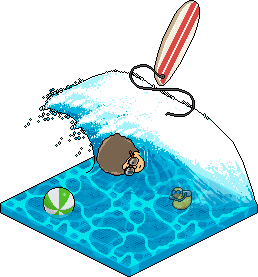 Get Gifted
Along with this promotion, Habbo has promised to give free gifts to users with a registered e-mail.
Sneak Peak
On July 6, 2010, A sneak peek of the furni was released on Facebook. A room was also released for a short time for users to test out the new furni.
Trivia
This furni line was originally called Big Wave. After the promotion the name was changed to 'Beach Party'.
From the beginning, the items where planned to be taken out of the catalog July 26, 2010. However, near the end of the Big Wave promotion, it was decided that the Big Wave (Before the name change) furni would be a permanent addition.
Furni
(See Big Wave (furni line) for more details).
Ad blocker interference detected!
Wikia is a free-to-use site that makes money from advertising. We have a modified experience for viewers using ad blockers

Wikia is not accessible if you've made further modifications. Remove the custom ad blocker rule(s) and the page will load as expected.