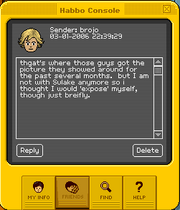 Brojo is known as the first hotel manager of Habbo.com. He was very popular back in 2005 and onto 2006. He quit Habbo.com in 2006. He is normally among old habbo's known to be the best hotel manager to date. His reasons for quiting was due to Sulake offices moving to another location in California. Unlike many other Ex-staff his rooms can still be viewed today however the account is banned. Brojo also was staff to many other English speaking hotels. The Brojo account can be found in Habbo.uk, Habbo.ca, Habbo.Au and Habbo.Sg. After his leave from habbo he used the account Brobot on Habbo.com.
Ad blocker interference detected!
Wikia is a free-to-use site that makes money from advertising. We have a modified experience for viewers using ad blockers

Wikia is not accessible if you've made further modifications. Remove the custom ad blocker rule(s) and the page will load as expected.