---
Camera

Smile!

Furni Line
Photoscreate
Original Release
November, 2002
Tradeable
Yes
Shop Price
10 Credits
Purpose
Decoration
Type
Floor
Value

1

Technical Data
ID
263
String
F-263

Furni Data
The Camera was a functional furni in Habbo Hotel. It was first introduced in November 2002. The Camera came in the form of an old-fashioned film camera on a tripod. It cost 10 Credits, and would come with two free rolls of film. Pictures could be taken in other user's guest rooms and official rooms, then placed on a wall in a guest room (They could also be picked-up and stored in the Big Hand).
Reason for Discontinuing
On 24 January 2008, Habbo announced its decision to stop selling the Camera after safety concerns were raised over it due to the way the photos were captured; they allowed scripting and could be used to harm others. Habbo promised to give Credits to those who had a Camera and at least two rolls of film.
Bye-Bye Pictures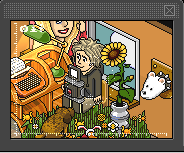 Habbo later announced that "photos will disappear over time". It is unknown if this means they will manually remove photos (and or cameras), all together or the popularity the two items will fade. Seeing as the items are almost useless (besides the look), many will or already have recycled the items with the
Ecotron
.
Gallery
Ad blocker interference detected!
Wikia is a free-to-use site that makes money from advertising. We have a modified experience for viewers using ad blockers

Wikia is not accessible if you've made further modifications. Remove the custom ad blocker rule(s) and the page will load as expected.