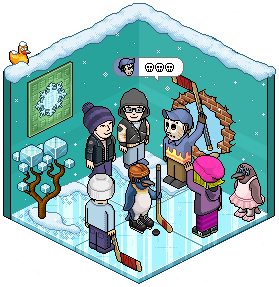 The
Xmas 2010
event within Habbo began on November 23, 2010 with its first Christmas Quest (Read more below). The first events are scheduled to end on January 3, 2011. However, "There will be loads of new quests and more Snowflake gifts starting on December 1st." -Habbo Staff 11/23/2010. The events could be followed with a
sidebar
icon or by purchasing a calendar furni (see image to the right for a green calender). A snowflake effect would burst from the calender, along with several tabs on the furni, and you would access the quest menu.
Quests

Quests will be released to Earn
Snowflakes
. To begin a quest you must purchase a Calender and double click it (see below) or click on the Quest button (Left image)on the sidebar. After each quest you will be rewarded 1 Snowflake Point (Read more below). You can spend your snowflakes anytime until 1/3/2010 but, awards will come and go. All quests are available for 7days (1 week) before they are inaccessible.
Rewards/Furni
(Main Article: Snowflake Gifts).
Badges
(Go Here: Template:Badge/Chart/Xmas2010 to edit this chart). (You may need to save this page again for the chart to refresh)...
Green calender leak?
As also seen in the main image above, a green version of the calendar was added in the furni files of Habbo. It looks to be a simple recolor of the Blue Calender, and would likely have the same function as the other calenders. However, this item was never released.
External links
Gallery
Ad blocker interference detected!
Wikia is a free-to-use site that makes money from advertising. We have a modified experience for viewers using ad blockers

Wikia is not accessible if you've made further modifications. Remove the custom ad blocker rule(s) and the page will load as expected.