---
---
The country line was first released into the hotel May 1, 2009 except for the forestwall which was released in the environmental campaign of Easter 2009 but is still considered part of the country range. A
country trax pack
was also released into the catalog for a short time but is no longer sold due to the demise of
trax
. In the Shop the picnic range released in May 2011 was combined with the country range so picnic items are now also considered to be country items.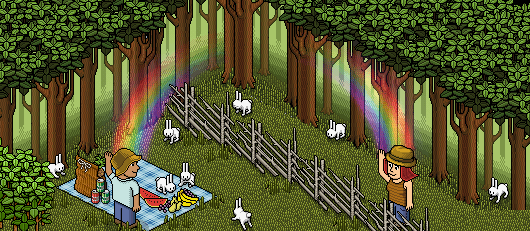 Furni
Stump Chair - 3c - Carved perfectly to fit
Picnic Basket - 3c - Munch away!
Picnic Pillow (red, yellow or blue) - 2c - Comfier that the ground!
Picnic Blanket (red, yellow or blue) - 4c - Put on a picnic spread
Cheese Platter - 1c - Motto: Time for a snack?
Baguettes and Apples - 1c - Fancy picnic food!
Picnic Refreshments - 1c - Cheers to a sunny day!
Nest(led) Tree - 4c - Don't sit underneath it!
Rock Teleport - 6c - Disappear into the dark
Wild Cascades - 10c - Let it run wild!
Well - 5c - Be careful what you drink out of the well.
Gate - 4c - Stampede coming through.
Soil - 3c - Find that perfect spot to plant some grain.
Rock Corner Divider - 2c - Between a rock wall and a hard place.
Rock Divider - 3c - Strong and Sturdy
Wooden Divider - 3c - Keep paddocks separated.
Forest Wall - 4c - Don't get lost in this forest...
Wheat Patch - 5c - Got grain on the brain.
Ditch - 4c - The babbling water goes on and on.
Ditch Corner - 2c - Every which way the water bed bends.
Rainbow - 5c - Is there a pot of gold at the end?
Log - 3c - Have a seat.
Rain - 5c - Raindrops keep falling on my head.
Grass Patch - 4c - Mmmm smell the freshness.
Country Fireplace
Country Lantern
Country Patio
Scarecrow
Rain
Country Stage
Country Teleport
Country Wall
Tractor - ?c - Yes it is a tractor!
---
Furniture Images
---
Ad blocker interference detected!
Wikia is a free-to-use site that makes money from advertising. We have a modified experience for viewers using ad blockers

Wikia is not accessible if you've made further modifications. Remove the custom ad blocker rule(s) and the page will load as expected.