---
---

You can read both of the original Habbo articles by clicking here and here.
In The Habbo News
Jul 19, 2010
The gorgeous starlet is coming to Habbo to talk about The Boy Who Murdered Love! Where: MTV VIP Lounge When: Friday July 23 Time: 3:45 pm BST (GMT +1)
Diana Vickers, who is already one of the breakthrough artists of the year, is soon to release her second single, The Boy Who Murdered Love, on July 19.
Explaining the song, Diana said "The boy who murdered love sounds uptempo but it's got a dark meaning behind it. It's about when you've been madly in love with someone and your world has been so beautiful but then they break your heart and ruin the whole concept of love for you. The beautiful boy you once adored has now murdered love."
This is the second single off her album, Songs From The Tainted Cherry Tree, following her debut hit single, Once.
If you haven't already, scroll down to see the video for The Boy Who Murdered Love!
GOT A QUESTION FOR DIANA VICKERS? During the live chat, we will be asking Diana questions that you submit, so if you're curious about her career, life, music... enter your question at the bottom of this article!
Jul 23, 2010
The X-Factor darling came by the Hotel today! Diana Vickers is busy reaching for the stars with her newest single, The Boy Who Murdered Love, yet she made time to come by and charm us out of our socks!
Scroll to the bottom to see her special video message!
Some lucky Habbos even got their questions answered, and here is a little snippet for those that missed out.
,daisylove.: I think your a great singer Diana, But whos your idol?? x Diana: Oh you may not know her, but it's the late Judy Garland, she was Dorothy in Wizard of Oz. I had to impersonate her in my westend role Little Voice x
Be-My-Escape: Being in the X-Factor must have been nerve-wracking, would you redo it; having done it once and knowing what it's like? Diana: I wouldn't do it again now that I've already done it, but if i hadn't I would have. Even though it is a VERY scary business, it's well worth it.
,KeeleyBabee: Since the X Factor, What was the biggest and best gig you have performed and why? Diana: Oooooh probably a gig at Manchester Academy - it was my home coming gig and the crowd was INSANE! I got very choked up when i saw my mum in the crowd, she was a proud momma.
,Zack,.: Do You Have Any Tips For People (Like Me) Who Want To Pursue There Dreams In Singing Diana: Search for all the opportunities, try everything, give as much as you can, never settle for less.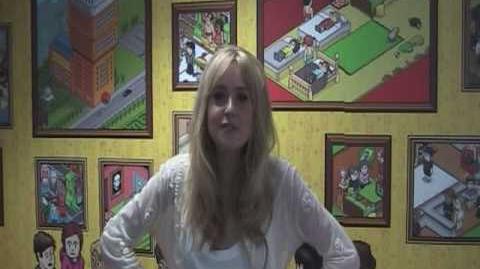 Ad blocker interference detected!
Wikia is a free-to-use site that makes money from advertising. We have a modified experience for viewers using ad blockers

Wikia is not accessible if you've made further modifications. Remove the custom ad blocker rule(s) and the page will load as expected.