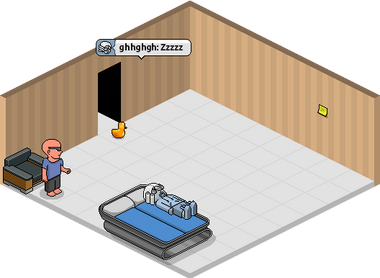 Don't Wake Grandma (or Don't Wake Grandpa) is a user-moderated game in the Guest Rooms. It involves the host dressing up as elderly people and pretending to sleep, while players dance around the room.
Gameplay
The host dresses like an old person and lies in a bed. They type "zzzzzzz" showing they are "asleep". Players dance while the grandma/grandpa is asleep, like having a party. When the grandma/grandpa "wakes up" by getting out of bed, the last player to sit down gets caught by Grandma or Grandpa and has the choice of kik (kick) p2s (pay to stay) or rev (revenge).
Furni Required
These are the furnis required to be able to play a proper game.
A bed (May be single or double)
Seats (So players can sit down in order to follow rules)
Ad blocker interference detected!
Wikia is a free-to-use site that makes money from advertising. We have a modified experience for viewers using ad blockers

Wikia is not accessible if you've made further modifications. Remove the custom ad blocker rule(s) and the page will load as expected.