"The Executive Furni is ideal for creating a sophisticated study, office blocks, or the head desk of the big mafia boss! It is also great for designing companies, record labels and businesses."
---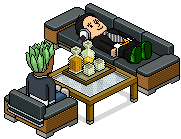 The Executive is a line of furni. It is based on office-themed furniture.The line was first revealed in the UK Hotel (but not released) November 2007 and was eventually released about a month later on January 14, 2008.
Updates
In November 2010 the camera, sensor, copier, work desk and executive divider was released into the Hotel.
On August 4, 2012 some pieces of furniture from the line were re-colored and re-released in a new line called Vanilla Executive.
In July 2013 the vanilla executive line was discontinued from the catolog.
Executive

Furni

Boss Chair  • Sofa Chair  • Three Seat Sofa  • Elevator Teleport  • World Map (Executive)  • Office Plant  • Light (Executive)  • Cubelight  • Art Lamp  • Bar (Executive)  • Bar Corner (Executive)  • Gate (Executive)  • Waterfall  • Executive Carpet  • Globe (Executive)  • Office Desk  • Glass Table (Executive)  • Drinks Tray  • Security Camera  • Security Sensor  • Copier  • Executive Divider  • Work Desk

Vanilla

Vanilla Boss Chair  • Vanilla Lounge Chair  • Vanilla Sofa  • Vanilla Bar  • Vanilla Bar Corner  • Vanilla Gate  • Vanilla Waterfall  • Vanilla Rug  • Vanilla Glass Table
Ad blocker interference detected!
Wikia is a free-to-use site that makes money from advertising. We have a modified experience for viewers using ad blockers

Wikia is not accessible if you've made further modifications. Remove the custom ad blocker rule(s) and the page will load as expected.