---
Habbo Hotel Fansites are community based sites, usially run by players of Habbo, with information, features and events reguarding the online game. The most common features presented on fansites are; rare values, a radio, forums, in game events, and the latest Habbo news.
Before the English hotel merge, these were the official fansites for 4 out of the 5 Engish-speaking countries:
Pre-Official Fansites (UK)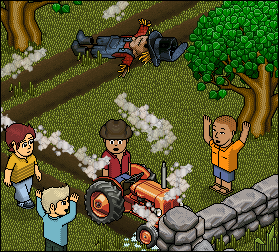 ClubHabbo.net (closed)
Hababble.com (closed)
HabboForum.net (closed)
HabboLot.net (closed)
FlameHabbo.com

Pre-Official Fansites (USA)
Pre-Official Fansites (AU)
Hababble.com (closed)
HabboZone.com (closed)
Habbolot.net (closed)
Pre-Official Fansites (SG)
Hablet.com (closed)
Great.la (closed)
HabboSoup.org (closed)
HabboEmotion.com

After the English hotel merge, 0rca (now retired from the role) took control of the fansites. After 0rca, Community staff member Grecian9 took over the role, going by the name "Fansites Jason" on Twitter and various other services. At present, Community staff member powertoo controls Habbo fansites, but due to the size of powertoo's job within Habbo hotel, a volunteer fansite representative now exists, the representative for Habbo.com being the user "Mammoth".
---
Here are the present official fansites of Habbo.com:
---
Submission
About twice a year Habbo opens up applications for unofficial fansites to become official. This is usually done by the fan site owner contacting Sulake by emailing them the needed info. Recently the way to register your fansite was to answer a poll in a room filling in all the info. It is now closed. There are new plans, starting in 2014, for there to be quarterly times in the year where new fansites can get the chance to become official.