You can read the origonal Habbo article by clicking here
In The Habbo News
The guys have got a date set with you, come say hello! Riding the successful wave that was the release of their debut album, 'Vote FranKo', earlier this year (a tribute to their devoted fans), the talented indie band rockers have created a name to be reckoned with in the UK. FranKo is not your average screamo or Jonas band... they are something else altogether!
Which is why we are thrilled that the guys are taking time out of their very busy schedules to come and have an acoustic set and a chat right here in Habbo Hotel!
Date: 27 August Time: 4.30pm BST (British summer time) Where: MTV VIP Lounge
---
EDIT: Check out the acoustic set that FranKo did in the play list below! 'Vote FranKo' is available at mamstore.co.uk »
To find out more about the band, check out the following sites: FranKo's Official Myspace page FranKo's Website
Fun Fact: The eagle eyed amongst you may recognise lead singer, Tommy Bastow, from the recent BT ad campaigns!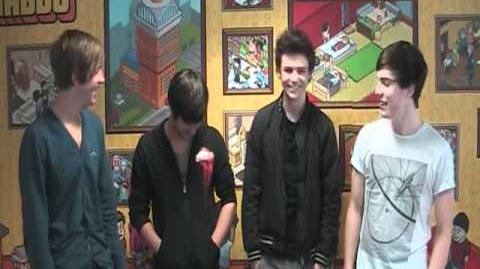 Ad blocker interference detected!
Wikia is a free-to-use site that makes money from advertising. We have a modified experience for viewers using ad blockers

Wikia is not accessible if you've made further modifications. Remove the custom ad blocker rule(s) and the page will load as expected.