To be a Guardian is to be on the 7th level of the Habbo Helper talent track and are somewhat a reincarnation of Hobbas. They are very simplistic moderators and are part of Paul's plan to make Habbo safer. This feature was talked about during and after The Great Mute. The Guardian program went live on Habbo.com on August 9, 2012, as an additional level of the Habbo Helper track. The first level of Guardians, or Novice Guardian, is able to vote on reports of bullying and determine whether the reported user should receive moderator action, or if he/she is innocent by looking at the chat logs. The next level of Guardian is the same. When you achieve novice Guardian, your Helper Tool has an additional option asking what kind of help you want to give.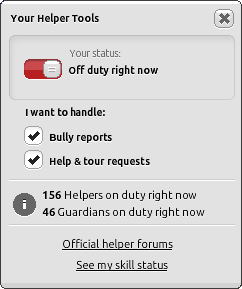 Guardians enable paid moderators to take care of the more serious problems first and therefore create a safer environment for users to play in.
If a Habbo feels like they are being bullied, made to feel uncomfortable or harassed in Habbo, they can use the "Report a bully" option in the call for help section to let the Guardians know. If the Guardians agree that the Habbo is being bad, then the Habbo is muted for 15 minutes and is banned from the room. If the situation is severe, the call gets forwarded to a moderator.
If no Guardians pick up, the call is automatically forwarded to the moderators.
Trivia
It is estimated that working from the first level of Habbo Helper to Guardian level will take 2 weeks - 1 month depending on certain conditions.
Some users believe that a lot of Habbo Guardians and Helpers only answer requests to boost their badges. Many of the dedicated Habbo Guardians believe this as well.
Gallery
External Links
Ad blocker interference detected!
Wikia is a free-to-use site that makes money from advertising. We have a modified experience for viewers using ad blockers

Wikia is not accessible if you've made further modifications. Remove the custom ad blocker rule(s) and the page will load as expected.