Habbo Brazil is the Brazilian branch of Habbo Hotel. It founded officially in February 2, 2006.
Habbo Brazil been always has one of the more successful hotels of Sulake.
Most Amount Of Players Online
After a record of 50 thousand Habbos online at the same time, the Brazilian habbo hit the highest record in the history of hotels reaching 69,172 players online at 23:00/BR on 04/07/2011
Staff List
The Staff group from Habbo Brazil below: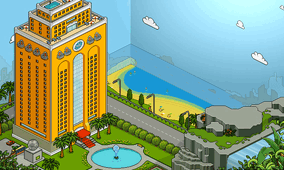 Atari79 (Hotel Manager, 2012-?)
lovelyluna (Hotel Manager, 2013-?)
DonaCapivarinha (Hotel Manager, 2013-?)
titpzinha (Hotel Manager, 2012-2013)
MissFurby (Hotel Manager and Marketing, 2010-2013)
4Queijos (Hotel Manager, 2008-2012)
Disco-Lee (Hotel Manager, 2008-2012)
TheDJHabbo (Community Manager, 2008-2011)
Acapulca (Hotel Book-Keeper, 2006-?)
DJapamala (Marketing Manager, 2006-2007)
Ninnapix (Marketing Manager, 2011-?)
Prefeita (Community Manager, 2006-2008)
Paty-nestle (Hotel Manager, 2006-2008)
Reeet (Hotel Manager, 2006-2012)
Flecha (Hotel Manager, 2006-2007)
Mordomo (Hotel Manager, 2006-2007)
Isabela (Hotel Manager)
Madeincasa (Marketing Manager,)
Moderators List
The Moderators group from Habbo Brazil are shown below (maybe not the current).
MOD_Andy
MOD_Annie
MOD_Andy
MOD_Anzy
MOD_Bezao
MOD_Blues
MOD_Dulchi
MOD_Harriet
MOD_Lucy
MOD_Mandy
MOD_Skinners
MOD_Tete
Attention: In Brazilian Hotel, all moderators name is initiated with the prefix MOD_ instead of MOD- as most hotels are with.
Past Alexa Ranks
7,228 as of July 17, 2010
Ad blocker interference detected!
Wikia is a free-to-use site that makes money from advertising. We have a modified experience for viewers using ad blockers

Wikia is not accessible if you've made further modifications. Remove the custom ad blocker rule(s) and the page will load as expected.