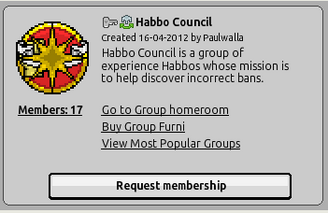 The
Habbo Council
was a special group of experienced Habbo's made up by then CEO of Sulake
Paul LaFontaine
, and then staff
Puffin
. The group was randomly picked from a selection of about 500 Habbos.
Purpose
The Habbo Council's purpose was to help users that were permanently banned, try to get unbanned by pleading their case to a council member (Note: Only users that were banned between March 12 - 25, 2012 were helped). 
Yammer
Main article:
Yammer
Yammer was the name of the communication system Habbo Council members used during the period of time they worked.
Habbo Council Members
-Sno
650c
Axiv
Barry
CJVX
Deegers
Ekelektra
God
Habtaz
J-Raviv
Jaked-up
Kurth
Moffins
Nimidoji
Salukorana
Samanfa
Storking
Valrulz
Varnius
Ad blocker interference detected!
Wikia is a free-to-use site that makes money from advertising. We have a modified experience for viewers using ad blockers

Wikia is not accessible if you've made further modifications. Remove the custom ad blocker rule(s) and the page will load as expected.