---

---
Habbo Speedway is an official game in Habbo. In September 2012, Habbo Speedway was released in a beta format for the Finnish hotel only. On November 9th, 2012, Habbo Speedway was released around the world.
Gameplay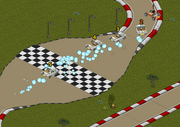 A player may choose to join in a "Practise" map, which allows for infinite 'Power-Ups', while racing against
bots
. Or, players may choose the real game, where you challenge players around the world from different hotels. In the real game, you may earn badges
(See below)
and select up to 3 'Power-Ups' to use.
The controls are quite simple, compared to the standard 'Racing Game'. The player simply holds down space to accelerate and presses the 'H' key to sound their horn. Though the horn is simply sound, timing your acceleration is very important. If you go through a corner too fast, you will spin out thus loosing speed and time. Remember: "Slow and steady wins the race".
Power-ups
Though not required to win, 'Power-ups' may give an advantage to win. These may be given for free in the lottery (See below) or purchased with coins in packages of multiple power-ups.
Power-Up
Effects
Cost

Speed Boost

Gives you that extra boost when you need it.

10 for 3 Coins

(3.33 Coins each)

Glue

Give the car behind a sticky spin out.

10 for 1 Coins

(0.1 Coins each)

Missile

Take out the guy in front.

5 for 5 Coins

(1 Coin each)
Lottery
Once a day, you have a free play in the lottery system. You have a 1 in 4 chance of earning a Duck (though it's actually nothing), Speed Boost, Glue, or a Missile.
Badges
Even before the release of the game, badges were released into Habbo's achievement system for a short period of time.
Races


For driving 100 races in Habbo Speedway!
Win or lose, simply play 100 races to earn this badge.
Ducks


For getting 20 Ducks in Habbo Speedway!
In the lottery (see above), you have a 1/4 chance of receiving a "duck". Having this happen 20 times earns this badge.
Wins
For winning a certain amount of races.
| Badge | Number of wins needed |
| --- | --- |
| | 1 |
| | 20 |
| | 50 |
Media gallery
Ad blocker interference detected!
Wikia is a free-to-use site that makes money from advertising. We have a modified experience for viewers using ad blockers

Wikia is not accessible if you've made further modifications. Remove the custom ad blocker rule(s) and the page will load as expected.