Habbo UK
was the branch of Habbo Hotel encompassing Scotland, England, Northern Ireland and Wales. It was incorporated in 2001. On June 10, 2010. Habbo UK
merged with Habbo.com
, marking the closing date of Habbo UK.
Information
Habbo UK was the first English Hotel at the time. It was originally the international hotel, but soon after, Sulake opened new hotels for different communities. At first, it was hosted on the habbohotel.co.uk, then, for some odd reason, it changed to habbohotel.com. After some time at the .com domain it moved back to being habbohotel.co.uk - so the US could have their own hotel.
Staff History
Since 2005, the hotel has been managed by Lost_Witness. Lost_Witness was then joined by Bucho6, who then got promoted to a higher point in the Sulake company. Bucho6 still hosts events and goes around the hotel. Lost_Witness was then joined by ludus in 2009 who then left in March 2010 to focus on his degree. Ludus' hotel management contract expired in May 2010, but is still a Sulake employee.
Merge
In April 2010, it was decided all English speaking hotels (UK, CA, SG, US and AU) would unite into one hotel. This meant, the UK would no longer be the longest running English speaking hotel running, but it would continue to be the longest running English speaking hotel to ever run in the past and the second longest running hotel ever to run. Habbo UK merged with Habbo.com on June 10th.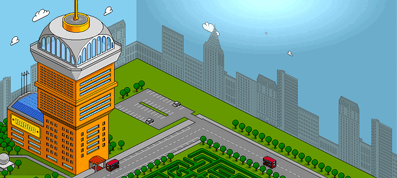 The designers of sulake probably looked to the Big ben and west minster next to it. Because the hotel looks very much like the bigben