---

---
The Haunted Carnival furniture line was introduced for Habboween 2012 and features games and designs commonly found in funfairs with a haunted twist.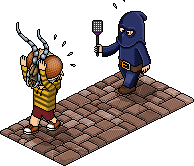 Click furni to see more info
Target!

- Cage
- Costume Gate  

- Misfortune Teller  

Fairground Grabber
Lantern  

- Snake Skin

- Test Your Strength!

- Fairground Divider
Gory Floor

- Scarecrow
- Executioner's Coffin
- Guillotine

- Costume Hopper
- Ghost Light

Ghost Train Left Corner

- Ghost Train Right Corner

- Ghost Train Track
Ghost Train Car
- Fairground Of Fear

- Moon Light

- Fairground Entrance

Habboween 2012 Rares
Wolf
- Duck Ride

- Cannon

- Magic Mirror

Re-released
Classic Habboween Furni
- Background Toner
Psst, did you know that costumes were also added Habboween 2012?
Ad blocker interference detected!
Wikia is a free-to-use site that makes money from advertising. We have a modified experience for viewers using ad blockers

Wikia is not accessible if you've made further modifications. Remove the custom ad blocker rule(s) and the page will load as expected.