The hotel view is the main background of the client. Once Habbo loads, this is the first screen players come across when entering Habbo. The hotel view is also shown when people leave the room they were in. Before Habbo Beta was released, all hotels had a different hotel view (see Gallery). Today, all hotels have the same hotel views. Hotel views sometimes change during promotions and seasonal events.
Gallery
The hotel views are arranged according to their release date.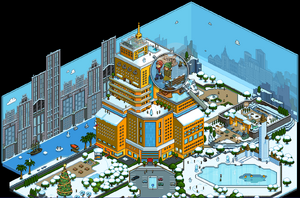 Other views
Ad blocker interference detected!
Wikia is a free-to-use site that makes money from advertising. We have a modified experience for viewers using ad blockers

Wikia is not accessible if you've made further modifications. Remove the custom ad blocker rule(s) and the page will load as expected.