Kerli Visited Habbo On August 13th, 2010.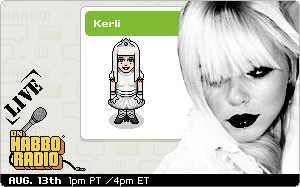 In The Habbo News
The Estonia born singer will be live on the radio! Kerli is coming to Habbo with a live radio interview on August 13th at 1pm PT / 4pm ET!
All you need to know about 21-year-old singer-songwriter Kerli is contained in the songs to her debut Island Def Jam album, Love Is Dead.
Also, check out Kerli's Group Page for latest details and information on the upcoming visit. Submit your question for Kerli by Monday, August 11th and claim your spot early on Habbo Radio August 13th before 1pm PT!
Sources
Ad blocker interference detected!
Wikia is a free-to-use site that makes money from advertising. We have a modified experience for viewers using ad blockers

Wikia is not accessible if you've made further modifications. Remove the custom ad blocker rule(s) and the page will load as expected.