| | |
| --- | --- |
| | Official rooms were discontinued by Habbo, so this page is considered historic. |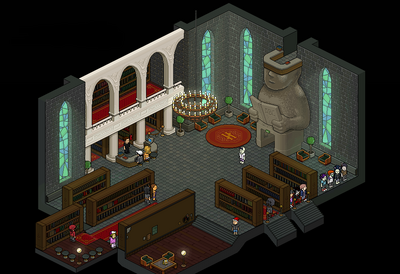 The Library is an official Habbo room. This means it is always located on the navigator under the "Official" Tab. The bot working in the Library is named Marcel.
The room description is - "There's nothing like a good book..."
Reopening
In November 2011, the Library was briefly reopened for a poll. It closed again on 23 November making it the final official room to close.
Glitch
There is a glitch in the library which allows the player to stand in the far left wall by walking along from the balcony.
Ad blocker interference detected!
Wikia is a free-to-use site that makes money from advertising. We have a modified experience for viewers using ad blockers

Wikia is not accessible if you've made further modifications. Remove the custom ad blocker rule(s) and the page will load as expected.