---
The
Marketplace
is a newer trading system that allows players to buy and sell
furni
from other players safely while avoiding
scams
and the hassle of finding offers. It was released on January 19, 2010. The Marketplace can be found in the
catalog
under the "Marketplace" section which is located right at the bottom of the list.
General Information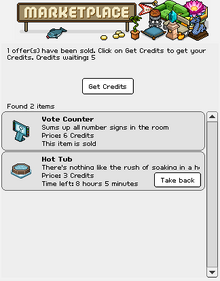 The Marketplace allows players to safely buy and sell furni other players have to offer. Players don't need to advertise or meet each other anymore as you can find almost everything you ever wanted within the marketplace.
In order to use the Marketplace, players will first need a Trade Pass.
Despite the availability of items due to the marketplace, most people decide to use shops and trade rooms. This is because most prices in the marketplace are very high, they have to be as the market place charges 1c commission.. Commission means that if you priced your item as 5c you will only get 4c and so on.
Buying
Players can buy any of the furni offered in the Marketplace, provided they have enough coins. To buy an item, players browse for the desired item and click "Buy". When purchased, they will get the item at the cheapest price available.
Selling
Players can sell any furni to the Marketplace as long as it is tradeable. After January 13th, 2012, players also may sell items from the catalog. To sell an item, players select the desired item from their inventory and click "Sell in marketplace". A window will pop up, showing the average price in the last 7 days for that item. Players may set their own asking price. There is a 1 credit commission, so the final price would be the asking price + 1 credit commission. The offer will be visible in the Marketplace for 48 hours.
Players are allowed to post 5 items for sale at once. VIP members may post infinite items for sale.
Offers, that don't sell, are able to be taken back.
Marketplace Trade Glitch
In 2012 there was a glitch going around that allowed users to use the marketplace to pretend to trade items to other players. Player 1 uses the marketplace then they use a furni they glitched to trade to Player 2, after both of the players accept Player 1 gets Player 2's furni, but Player 2 doesn't get Player 1's furni. However Player 1 can later retrieve his furni.
Trivia
At one point, players would also need to pay for "Spaces". For example, Regular players could post 5 items for a cost of 1 coins, while VIP and HC members could post 10 items for 1 coin.
Ad blocker interference detected!
Wikia is a free-to-use site that makes money from advertising. We have a modified experience for viewers using ad blockers

Wikia is not accessible if you've made further modifications. Remove the custom ad blocker rule(s) and the page will load as expected.