The McFly band paid a visit to Habbo.com on November 11th, 2010. You can read the original article by clicking here.
In The Habbo News
Chat with the band this Thursday in the Star Lounge! Sixteen singles, five albums and millions of record sales later, McFly are once again conquering the music charts and heading to Habbo to celebrate!
The awesome foursome's new single 'Shine A Light' with Taio Cruz will be released this Sunday and is the follow up to the hit 'Party Girl' and continues with the guys' fresh, new electronic sound.
If you're a huge McFly fan you can catch Tom, Danny, Dougie and Harry in the Hotel this Thursday! Here are all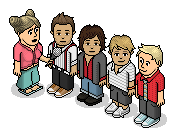 the details so you don't miss the action:
Date: Thursday November 11
Time: 4pm GMT
Where: Star Lounge
Why: Because they're awesome! ;D
While we patiently wait for the boy's arrival, you can visit their official website for more info about the band, tour dates and the latest McFly news!
ASK THE BAND A QUESTION AND WIN A FREE MEMBERSHIP TO SUPER CITY
10 lucky Habbos who's questions get asked live by Habbo Staff during the Chat, will win a free 1 month subscription to McFly's super awesome Super City website. As a member of their website, you get to download the whole album for free! Scroll down to take part...

*Images come courtesy of Alex Lake.
Ad blocker interference detected!
Wikia is a free-to-use site that makes money from advertising. We have a modified experience for viewers using ad blockers

Wikia is not accessible if you've made further modifications. Remove the custom ad blocker rule(s) and the page will load as expected.