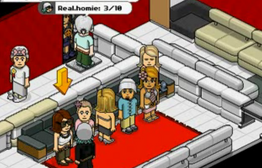 A
model agency
is a room that holds modeling competitions.
Info
Within a competition, there would be at least 4 Habbo's that are able to participate. The person that takes control of the competition is called a judge. A judge will tell all the participants to stand up, and one by one the judge will go by the most common following categories: top (shirt & accessories), bottom (pants & shoes), color co-ordination, hair, and overall. When the judge goes by each category, he/she will first rate them then eliminate the one that he/she dislikes the most from. For example, if a girl is judging and she goes to judge four Habbo's and the first category she goes by is hair, and she rates the first person's hair 2 out of 10 points or 2/10 and that turns out to be the lowest rating then that participant will be disqualified from the competition and asked to be kicked out, chill in the staff area, or go back to the line. The last participant to still be in is the winner. The winner usually ends up winning rights or just get a position to work for the agency. Sometimes, there will be ranks if you win a position/a job for the agency or you must earn or pay for rights.
The modeling agency rooms consists of one area for the staff and another area for where the competitions occur in. There are lines. Most rooms title their agency rooms such as "Pink Passion Models", therefore they end with 'Models' in the title.
Modeling agencies are one of the oldest roleplaying activities created in the history of Habbo. They've been around since 2001 and it is unknown to who created this idea.
A typical modeling agency on Habbo are crazed about looks and fashion.
Ad blocker interference detected!
Wikia is a free-to-use site that makes money from advertising. We have a modified experience for viewers using ad blockers

Wikia is not accessible if you've made further modifications. Remove the custom ad blocker rule(s) and the page will load as expected.