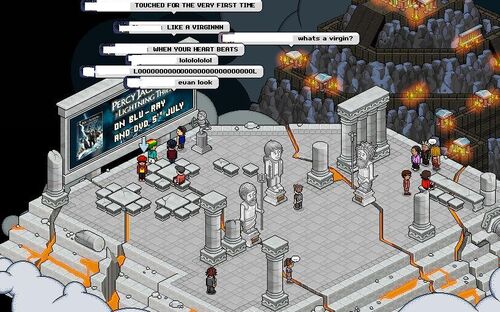 Mount Olympus was created in June 2010. It was to advertise the release of "Percy Jackson and The Lightening Theif." It was removed in August 2010.
In the Habbo news
"How well do you know the Gods of the ancient world? Challenge yourself for a chance at winning the Lightning Thief badge! Percy Jackson is half Greek God, half trouble maker, son of Poseidon and up against some olympic challenges... He really has to rise to the occasion in order to save his friends and Zeus's lightning bolt.
You might not be a Demi-God yourself, but how well do you know the Ancient Olympians?
Put your knowledge to the test in the Mount Olympus public room, if you get the questions right, we will award you the Lightning Thief badge!
MEET PERCY JACKSON Logan Lerman will be visiting Habbo in July to talk about the upcoming DVD release of his movie, 'Percy Jackson & The Lightning Thief'."
Ad blocker interference detected!
Wikia is a free-to-use site that makes money from advertising. We have a modified experience for viewers using ad blockers

Wikia is not accessible if you've made further modifications. Remove the custom ad blocker rule(s) and the page will load as expected.