You can read the two Habbo articles concerning Natasha's visit by clicking
here
and
here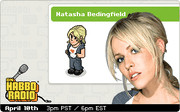 In The Habbo News
April 2nd 2008
Natasha Bedingfield performs live in Habbo Thursday, April 10th!!!! Natasha Bedingfield will be performing a live acoustic set in Habbo on April 10, 2008, 3:00pm PT.
Singer Natasha Bedingfield took the world by storm last year with her hit single "Unwritten" that became the most played song on US radio. Now she's coming to Habbo to promote her new album "Pocketful Of Sunshine." Mark your calendars you won't want to miss this special live event.
Join the Natasha Bedingfield Fan Club. Tune into Habbo Radio to hear Natasha Bedingfield's live acoustic concert on April 10th at 3:00 PT. ===April 14th 2008=== Read the transcript from Natasha Bedingfield's interview on Habbo Radio. It was so amazing to have Natasha Bedingfield hang out in Habbo and then perform a live acoustic set on Habbo radio. We're all kind of reeling from how fun it was. Check out the photos on her group page: Natasha Bedingfield Fan Club and read excerpts from her interview below.

Burning Questions for Natasha Bedingfield

HoodCapital:l What was it like being a kid? Hard? Easy?
'Natasha B:' I liked being a kid, there were things that were difficult. Sometimes people don't take kids seriously. I really wanted people to believe every word that I said. But I loved the times when I could go and play with my brothers and sisters in the backyard.

Omg!ItsJessica: How does it feel to be famous?
'Natasha B:' It feels wonderful. I love going into VIP rooms. I love getting free stuff. And I love it when people already know my name, I don't need to introduce myself.

NextTopModel: What is the Thing you love most about your career?
'Natasha B:' Things I love most? I get to do something I love. I love making music. I am really grateful that's what I do for a job.

Rodell101: 'Who inspires you and why?
'Natasha B:' I am inspired by John Mayer, Alicia Keys, Corrine Bailey Rae and many others because the are real artists and they write their own songs and they sing and they play their own instruments; I love that.

Whimsy: What is your favorite song you have written?
'Natasha B:' Pocketful of Sunshine, the song that I am going to sing later for you.

princess-366: Which celeb do u have a crush on?
'Natasha B:' Brad Pitt ☺

JamesWf: What is your favorite song?
'Natasha B:' Crazy, by Gnarls Barkley. I looove that song.

Ad blocker interference detected!
Wikia is a free-to-use site that makes money from advertising. We have a modified experience for viewers using ad blockers

Wikia is not accessible if you've made further modifications. Remove the custom ad blocker rule(s) and the page will load as expected.