| | | |
| --- | --- | --- |
| | The Navigator page is missing information. Please help by contributing the accurate information! | |
The Navigator is one way to travel around the Hotel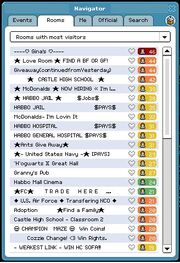 Tabs
Featured: A list of featured rooms, including the Official rooms.
Events: Click here for temporary rooms (e.g. a sale). These are usually made by users with rooms that are constantly changing. The most recent event being at the top of the list
Rooms: Click here to find the most popular or active rooms on Habbo.
Me: Your own Rooms
Search: Search for rooms by the Room Name or by the Creator's name.
Official
Official Rooms made by Habbo. (See: Official Rooms)
The New Navigator (shown bottom right) was released on 25th May 2012. From there, you would be able to see the most popular rooms in each category.
Ad blocker interference detected!
Wikia is a free-to-use site that makes money from advertising. We have a modified experience for viewers using ad blockers

Wikia is not accessible if you've made further modifications. Remove the custom ad blocker rule(s) and the page will load as expected.