---

"Party animals rejoice! Feel the base and reach for the lasers with the Neon Furni rage - everything you need to get the party started!"
---
'Neon' is a furniture line which can be found inside Habbo Hotel. The Japanese hotel was the first hotel to receive the original neon furniture back in November 2008 and then arrived in other hotels shortly afterwards.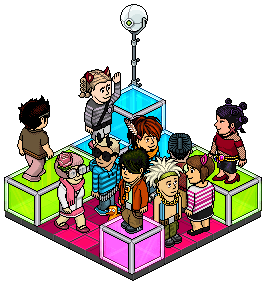 There have been a few extensions to the neon furniture range including
a "Party Lantern" and "Party Lights" which were first spotted in the Swedish hotel in 2009,
a "New Year's Light" which was in January 2010 & the newest Neon items (e.g. Small Crates) which were introduced into the hotel on June 17, 2010.
All Neon Furniture
---
The article regarding the latest Neon furniture introductions can be found here; http://www.habbo.com/articles/1686-go-with-the-glow
Ad blocker interference detected!
Wikia is a free-to-use site that makes money from advertising. We have a modified experience for viewers using ad blockers

Wikia is not accessible if you've made further modifications. Remove the custom ad blocker rule(s) and the page will load as expected.