---

---
"Every room needs a plant! Not only do they bring a bit of the outside inside, they also enhance the air quality! And what better gift for a friend than a beautiful rose or elegant fruit tree..."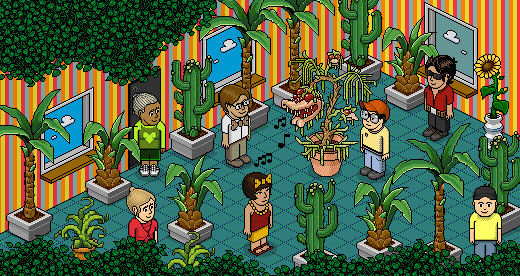 Furni
Click a furni link to see more info about it
Pineapple Plant

- Small Cactus
- Cut Sunflower
- Bonsai Tree

- Vase of Flowers
Mature Cactus

- Yucca Plant

- Cherry Tree
- Cut Roses
Maze Shrubbery

- Maze Shrubbery Gate
- Bulrush

- Grass Patch (Plants)

- Bush Divider

Bush Gate Divider
See also
Ad blocker interference detected!
Wikia is a free-to-use site that makes money from advertising. We have a modified experience for viewers using ad blockers

Wikia is not accessible if you've made further modifications. Remove the custom ad blocker rule(s) and the page will load as expected.