Respects were introduced in late October 2008 as part of the Achievements update.
Each player receives 3 respects to give out each day.
You only get this option if you have registered your e-mail and played for a number of days. This is to make sure players don't make clones to get free respects.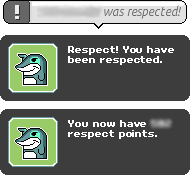 Badges
You can get badges for giving and earning respects.
You get a 'Nice as Pie!' badge for giving out 100 respects. This takes a minimum of 34 days to complete.
When reaching a certain number of respects earned, you receive a badge (see Respect Achievement).
Trivia
During the few days after Respects came out, a huge number of people started to respect each other. Some were even yelling out "RESPECT 4 RESPECT". After about a week, this frenzy calmed down.
Some Habbos host respect giveaways. The host would offer furni in exchange for 3 respects.
Respects can also be used to p2s in games. Instead of furni, the player would give the host 3 respects to stay in the game. Many hosts think this method is pointless.
See also
Ad blocker interference detected!
Wikia is a free-to-use site that makes money from advertising. We have a modified experience for viewers using ad blockers

Wikia is not accessible if you've made further modifications. Remove the custom ad blocker rule(s) and the page will load as expected.