---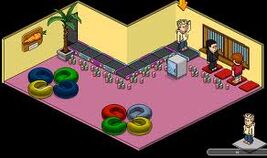 Rollers are furniture used to move things/object or people along, they come in different colors, you can buy them in the shop, the rotate around for you to use easier, but do not go diagonal unfortunately. There cheap to buy in the catalog, and everybody uses them different ways, to either stack furni or to use them in rooms or whatever ways they can think of.
In the Habboween promotion of 2012, Ghost Train tracks were released. They use exactly the same system as rollers.
Glitches
There is a known glitch where as, the user puts a furni on top of a roller and mass rotates it as it rolls off to make it look like it has been rolled one space back than it was supposed to be. Note: This glitch still works but it doesn't actually move the furni another space back, it just gives the illusion.
Stacking
Rollers can also be used to stack un-stackable items. See stacking for more details.
Colors and Models
Though the naming of Habboween tracks doesn't imply "roller", these items have the exact same usage of any roller.
Ad blocker interference detected!
Wikia is a free-to-use site that makes money from advertising. We have a modified experience for viewers using ad blockers

Wikia is not accessible if you've made further modifications. Remove the custom ad blocker rule(s) and the page will load as expected.