You can read the Habbo article
here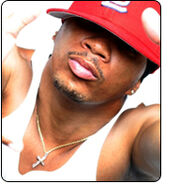 In The Habbo News
Shane Sparks checked into Habbo's theatredome on June 29, 2007 Shane Sparks is a renowned, award-winning choreographer and on-screen talent. He is largely recognized due to Fox's national hit TV show, SO YOU THINK YOU CAN DANCE-- a reality show (similar to American Idol) where he sits on the panel of three judges (including executive producer Nigel Lythgoe) and choreographs for the show. Sparks' past projects include choreographing for A-list musical artists such as: Ak'sent, Lindsay Lohan, Marques Houston, Omarion, among many others.
He received the industry's prestigious "Best Choreography in a Feature Film" award for "You Got Served" at the 2004 American Choreography Awards as well as a 2005 BET Award for co-choreographing with Omarion. Off season, Sparks was also part of an all-star line up of the nation's leading choreographers in a seven-city national tour, THE PULSE, hosted by Broadway Dance Center NY. The two-day jazz and hip hop dance workshop line-up of choreographers included: Shane Sparks, Brian Friedman, Mia Michaels, Cris Judd, Laurie Ann Gibson and Wade Robson. In the winter of 2006, Sparks choreographed a music video with Hollywood Records' new recording artist Corbin Bleu from Disney's HIGH SCHOOL MUSICAL. The music video will be used to promote Disney's Jump Start! film release in 2007.
In the past, Sparks has choreographed for the 2004 NSYNC's "Challenge for the Children" celebrity basketball game at the Office Depot Center in Fort Lauderdale, Florida, as well as judged for the 2004 World Hip Hop Championship. Recently, Shane has been in demand to travel the country teaching master classes and workshops from Florida to Japan. Shane choreographed promos for ESPN as well as Nationwide Urban Jams Dance Convention, The Steve Harvey Big Time Show. For more on Shane, check out his official website: www.theofficialshanesparks.com

Ad blocker interference detected!
Wikia is a free-to-use site that makes money from advertising. We have a modified experience for viewers using ad blockers

Wikia is not accessible if you've made further modifications. Remove the custom ad blocker rule(s) and the page will load as expected.