'Snowflake Gifts' was a section in the catalog for the
Xmas 2011
events. It also appeared for
Xmas 2010
.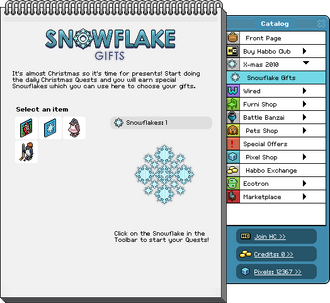 Snowflakes
A new type of Habbo Currency, Snowflakes were introduced in November 2010. Shortly after December 2011 all Snowflakes were removed from the game until continued in December 2012, in which all user's snowflakes were reset to zero.
During the Christmas season, snowflakes are obtainable by doing quests (see Xmas 2010 and Xmas 2011 for more details). They are used to buy some items in the Snowflake Gifts section of the catalog.
Snowflakes were again released in 2013.
Furni 2010-2011
Trivia
There is an unobtainable Green Calender that was used many times in images (See Xmas 2010#Green for more details).
Quote from Habbo: "Please note: the next three days are just a taste of things to come! There will be loads of new quests and more Snowflake gifts starting on December 1st. You can even save your first Snowflakes for later, but be sure to spend them before the New Year." -Habbo Staff 11/23/2010
On the second day of Xmas 2010, 2 were given by accedent, possibly in an attempt to help players catch up to the 2nd Snowflake Badge.
Controversy
The Ballerina Penguin and Hockey Penguin have both been released for free (upon simply logging in), in 2008.
The badge system was not released until after the first quest causing confusion (See Xmas 2010).
Involvement of coins
Quests requiring a simple 'double click' of an item still requires other people to buy more furni.
A quest in 2011/2012 had player buy a gift for another player.
Buying 180 coins in 2011/2012 would give players 20 additional Snowflakes. However, this promotion was released far into the promotion that year. The concpet of 'buying coins for extra snowflakes' was the controversial part.
Ad blocker interference detected!
Wikia is a free-to-use site that makes money from advertising. We have a modified experience for viewers using ad blockers

Wikia is not accessible if you've made further modifications. Remove the custom ad blocker rule(s) and the page will load as expected.