You can read the Habbo article
here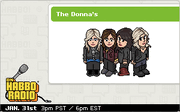 In The Habbo News
The Donna's were on Habbo Radio Thursday January 31, 2008 at 3pm PST / 6pm EST! The Donnas were here, chatted, rocked, and went! Check out these pictures and screen shots.... Everyone came out to visit. If you submitted a question to Wanna Ask a Donna? then you could win a signed CD. Check your email for an email from Habbo, and you might have won a CD from the Donnas.
Calling all Donnaholics! America's rock n' roll rebels The Donnas get back to business with their headbanging, hard rock masterpiece Bitchin'. Co-produced by Jay Ruston (The Polyphonic Spree, Meat Loaf), the album was self-released on the band's new label, Purple Feather Records, and is in stores now. You may also recognize them from Guitar Hero.
Check out The Donnaholics Fan Club, join the group and rock the badge! Read more info about The Donna's in their group forums.
Stay tuned, we will have a video from their visit soon.
Till next time-- Rock out Habbos!

Ad blocker interference detected!
Wikia is a free-to-use site that makes money from advertising. We have a modified experience for viewers using ad blockers

Wikia is not accessible if you've made further modifications. Remove the custom ad blocker rule(s) and the page will load as expected.