You can read the original Habbo article by clicking here.
In The Habbo News
Rock out with the T's! The Plain White T's are coming to Habbo with a live performance on September 8th 2008 at 4pm PST/7pm EST!
As the Plain White T's learned over the last two years, there's something unreal about success. One minute you're sweating your butt off on stage in some dive. The next, your song is #1 and your CD has sold more than a million albums worldwide.
Be sure to check out the
Plain White T's Group Page
and be sure to submit your burning question by Sunday, Sep 7th and claim your spot early on Habbo Radio September 8th 2008 before 4pm PST!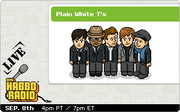 Ad blocker interference detected!
Wikia is a free-to-use site that makes money from advertising. We have a modified experience for viewers using ad blockers

Wikia is not accessible if you've made further modifications. Remove the custom ad blocker rule(s) and the page will load as expected.