| | |
| --- | --- |
| | Official rooms were discontinued by Habbo, so this page is considered historic. |
"Get your wands out, as Wizards of Waverly Place comes to Habbo!"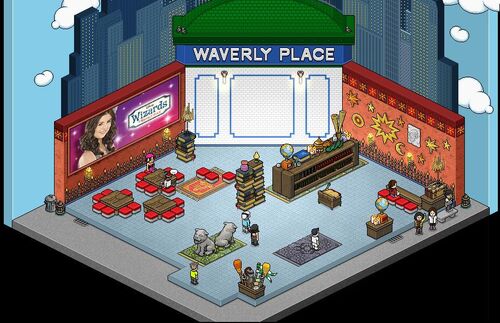 In The Habbo News
Get your wands out, as Wizards of Waverly Place comes to Habbo To celebrate the release of the fourth and final series of Wizards of Waverly Place, Habbo is running some spellbinding activities over the next month.
Are you fashionable? Do you have a love interest? Or are you just a general delinquent in class?
Tick, Tick, Tick
If you answered yes to the above you should head to the Pixel Shop and grab the Wizards of Waverly Place pixel effect! This way you can carry out messed up magic, just like the Wizards of Waverly.
Why not try some of your latest spells in the The Wizards of Waverly Place Lair! Check out the pic of the effect below.
Which wizard would you be?
Join the group page, get a badge (see pic below) and watch the series trailer! But most importantly read about the Waverly wizard characters Alex, Justin and Max on the group page. Enter The Wizards of Waverly Place Lair and let us know what wizard you would want to be. You will be sent a background (for your homepages) of the wizard you choose. See the backgrounds on offer below, these will be sent on 2 May.
Chat to one of the Waverly cast members!
OMG! Greg Sulkin (Mason Greyback) is going to be doing a live chat online! Is this some kind of sick spell? Chat to Greg at 4.25pm Monday 25 April at the link below.
The Russo family appears to be your typical New York City family; however, they are nothing of the sort. Alex, Justin and Max are not only everyday kids but also wizards-in-training; competing with each other for the title of number one wizard. Why the competition? Only the best of the three kids gets to keep their magical abilities.
Catch the first episode of series 4 on the Disney Channel on the 25th April at 4.50pm (UK time).