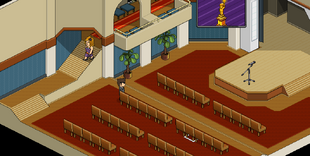 The Theatredrome is a Public Space, created by Habbo staffmember -HabboOfficial-, which has an auditorium-like setup. Many celebrity visits have occurred here.
Design
The Theatredrome has exactly 40 audience seats, 8 balcony seats (including the ones by the entrance), a 6 by 6 stage, and a backstage area. The backstage area contains 5 blue Anna couches, 2 fridges, and a bot named "LENNY!". The stage has working curtains, operated by switches, those of which, along with most other furni in the Theatredrome, have Public Spaces qualities,(No item description, softer look, not available in the catalog.). The stage has one microphone and nothing else.
Popular events
Important events are known to take place in the Theatredrome. To name a few:
Channel 4 Protests (during The Great Mute/Unmute).
User planned Plays, Performances. (Those of which, unfortunately fail due to disturbances cause by other habbos who wish to spoil the fun.
Group gatherings.
Ad blocker interference detected!
Wikia is a free-to-use site that makes money from advertising. We have a modified experience for viewers using ad blockers

Wikia is not accessible if you've made further modifications. Remove the custom ad blocker rule(s) and the page will load as expected.