You can read the Habbo article
here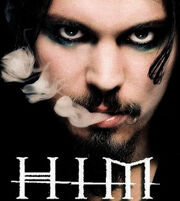 In The Habbo News
Telling you what's up! He's tall, dark and handsome, he's the frontman of one of the coolest bands ever, he's busy touring the world with the band's new album "Venus Doom".. and he was here - in Habbo.com!
Ville Valo of the world famous goth rock band HIM was here to talk to you about Venus Doom, what inspires him to keep making music 20 years after he started, and what it's like to be on the road.. And believe it or not, even rock stars know about Habbo!
Check out the band at: HEARTAGRAM.COM.

Ad blocker interference detected!
Wikia is a free-to-use site that makes money from advertising. We have a modified experience for viewers using ad blockers

Wikia is not accessible if you've made further modifications. Remove the custom ad blocker rule(s) and the page will load as expected.